Make a Dream
IO E I GOMMA GOMMAS
Old Italian Songs, Punk/Rock'n'Roll (Marche)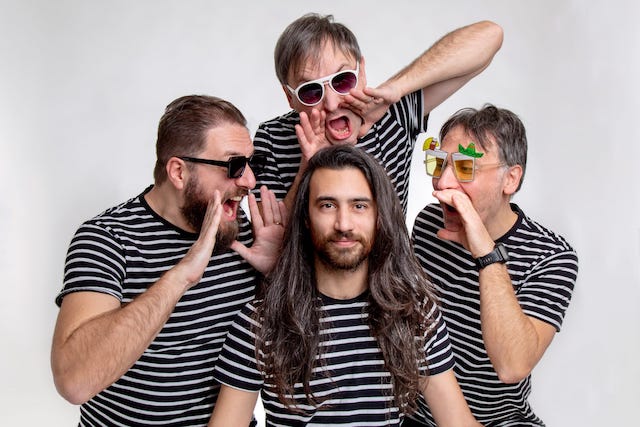 *since 2001*
Velocità, melodia, rock'n'roll e - soprattutto - Fun Fun Fun!!!
La band è un vero concentrato di divertimento, tecnica e pazzia: se dovesse capitarti di vederli dal vivo, ricordati di indossare scarpe comode, perché sarà molto difficile riuscire a resistere al ritmo delle storiche canzoni italiane rivisitate in chiave punk/rock'n'roll..!
In quasi 20 anni gli i Io e i Gomma Gommas si sono esibiti in oltre 500 concerti in giro per l'Italia, sono stati ospiti di RockTv, Rai1 (Uno Mattina Estate), Rosso Alice, ecc.. e le loro canzoni sono state utilizzate frequentemente da trasmissioni televisive (Lucignolo, Verissimo, Studio Aperto, Talent1, ecc..)
Dopo "And i have the lLegs that are doing James James" - "Honkey-Donkey" - "50's morti 60's feriti" - "Canto quel motivetto che mi piace tanto" - "Quanto ti voglio bene" - "Carrones loca live" - "E ancora un altro viaggio",
i singoli "Che Sarà", "Lo Shampoo", "Azzurro" e "Tanto pè cantà",
hanno anticipato l'album "…E vennero fuori i lupi" (ottavo lavoro ufficiale della band uscito nel 2022),
che vede come ospite Davide Toffolo / Tre Allegri Ragazzi Morti.
INFO+BIO (ITA) - download - INFO+BIO (ENG)
| | | |
| --- | --- | --- |
| Che sarà feat.Pela | Il pinguino innamorato | Tanto pè cantà feat. Davide Toffolo / TARM |